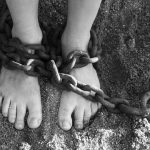 Do you feel stuck sometimes? Or maybe even now? Stuck as in: not quite knowing where things are or should be going in your life. Not quite knowing what to do right now. Feeling you are not where you want to be, but not knowing how to move out of this, and what you want instead. Not feeling it, that life energy, that lust for life. Not feeling pulled in any particular desirable direction.
I hear you sister.
You think I never feel stuck?
Think again.
I've been feeling completely stuck many times. Not just in the distant past, but parts of last year, and parts of this year too. I'm actually just slowly emerging from stuckness as we speak.
It may not always look like that – what with going abroad, speaking at events, teaching, buying a cottage in the woods and livestreaming and blogging and all that.
Oh sure, I do stuff. I'm sure you do too.
But what you don't see, is how I can hardly drag myself out of bed sometimes in the morning. How I procrastinate when I'm not feeling inspired or creative. How I keep myself in limiting patterns for too long, because I can't be arsed to do something about it. How I look at the world stage in despair and just want to crawl under the duvet.
I am, in fact, just like you.
But I know I am also more than this bumbling, fumbling, stumbling and half-arsing human being.
And so are you.
You and me, we are also souls, full of love and creativity, that want to discover and create and share and experience joy and do not feel limited by ego-driven fears and beliefs.
Having said that, and even knowing (or believing) that, it isn't always easy to align with that soul aspect and to understand what it's signalling.
Now, let me reassure you first: there is absolutely nothing wrong with being stuck for a while, from time to time. I actually think it is needed – or it wouldn't happen.
What might help you immensely, is to reframe the stuckness. Use a different kind of metaphor or analogy – see what helps you most.
For example, my stuckness occurs mostly in autumn and winter, and it helps me to realize that everything in nature goes through cycles of growth, blossoming, declining and retreating. This is usually my hibernation time.
Rest and regroup.
It doesn't matter if you're not teeming with creative ideas or a sense of direction at this point. Give yourself a break, take excellent care of yourself, listen to your body, allow yourself to be low key.
Find out what helps you build the trust that renewal is happening, even though you cannot feel it right now.
Or it might help you to think of the snake, that sheds its skin regularly.
Fun fact: before it sheds, the snake gets blurry eyed and fidgety, and it isn't until the skin is shed that it can see clearly again.
You see: before we can step into the new, we need to shed the old. There is a transitional period where we can't always see clearly.
Nothing wrong with that. It may not feel pleasant (ego likes to KNOW, right? Be IN CONTROL!), but it's perfectly normal.
You will come out of this, you will have ideas again, you will take action again, you will see a difference, change is going to come.
And then, of course, it's not as if there's absolutely nothing you can do.
You can.
Here's what:
1. Acknowledge and accept that you are in transition. Sit with it, breathe with it, journal about it. Make this a daily practice (needn't take an hour, five minutes is fine – take it from there)
2. Skills to work on right now, are patience and trust. Agreed, not necessarily the easiest when you are feeling restless, bored, down, uninspired, or perhaps even anxious and fearful (the ego doesn't like uncertainty and will definitely start throwing disastrous scenario's at you). But the can be practiced. (hint: meditation and mindfulness are great)
3. Take excellent self-care. Nurture yourself on all levels.
Physically: sleep. A lot if you like. Eat healthy stuff and indulge in some comfort food too. Have a massage, visit a sauna. Move! Go on walks, do yoga, go swimming – whatever is best and most appealing to you. Take extra vitamins. If you have any vague physical complaints: feel into or ask them what they are here to tell you (and don't ignore alarm symptoms: go see a doctor if it persists).
Mentally: consciously break your useless ruminating cycles. Study your thoughts. In what direction are they taking you? Is this where you want to be taken? Choose your thoughts wisely (hint: again, meditation and mindfulness can be great support here). Read books and articles that nurture. Have conversations that nurture. Be mindful of what you watch on tv – is it nurturing?
Spiritually: this can be an especially tough one if you're in a dry spel. Perhaps you don't feel inspired to do any spiritual practice. The 'why' question is probably the toughest one at this point, and chances are you are either asking it over and over without finding an answer, or avoiding it altogether. No problem. Just practice all the (or some of the) above, and you're good. If you can manage to connect with people (or even just one person): good, do it (and don't overdo it – time to go inward is key). Just be mindful. Study the self without judging it. Sit. Wait. Be. This too shall pass.
4. Reach out. You don't always have to do everything alone. In fact, that is not always a good idea at all. We are not always a clear mirror to ourselves (me neither! I work with mentors too).
I have 3 ways of offering support.
1. Free community
First, and free: you can come to my group, Awakening Wise Women. A nurturing and supportive place to ask and offer wisdom
2. Wise Women Session, reduced
Second: the wise women sessions (my best seller) are on sale! This Is a 90 minute session where I guide you to your inner wisdom in a guided meditation, and in an in-depth counselling sessions, we uncover what your soul is telling you. You walk away with clarity, insight, relief, new perspective and concrete action steps.
AND: only this month, you can book the session at a huge discount: it normally sells at €147,- , if you book before 31-12 it is only €87,-
AND I'm throwing in an oracle reading for free!
Here's your link.
3. Mentoring, special offer
Third: if you are considering longer term mentoring, now might be a good time. I'm reviewing my products for 2018, and while this is going on, I'm offering my 3- and 6-month packages at a 25% (I know!) reduction:
6 months normally €2420,- now €1797,-
3 months normally €1210,- now €897,-
Here is your link – we talk before you decide.
Speak to you soon!
December only!