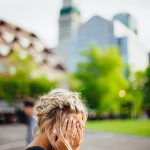 I have a suggestion. Let's delete the world 'fail' from our dictionary for a while. It is unnecessarily unkind AND it is usually not true. When you say you have failed, you are being hard on yourself.
But how can you know you failed?
All you know, is that you had an expectation, and things did not turn out the way you expected. Or hoped.
Was that a bad thing? It may feel that way. The gap between expectation and reality usually feels 'bad' (uncomfortable, wrong, shameful… fill in blank).
But can you be certain it is bad?
Suppose a toddler felt she failed, each time she tried to stand on her shaky little legs and walk – but fell. She would never learn to walk now, would she? Kids just play and have fun while learning to walk. And one day, they walk.
And you know what? All of life is like that. You live, you learn. You do what you can with the information you have in each moment. You fall, you get back up. There is absolutely no shame in that.
But I know. I know we are made to believe that perfection exists. That getting it right the first time is possible and should be our aim (supposing we know what 'right' is, eh! But that, too, is something we're made to believe). We are made to believe it is possible AND expedient to succeed at relationships (finding the 'right' one and staying with them till death do us part), at parenthood (raising a healthy, kind, assertive, happy and successful child effortlessly), at work (finding a well-paid job that completely suits and satisfies us, and from there it's upward all the way), in business (knowing exactly what to do and for whom, making 6 figures within a year or so) and so on and so forth.
I don't know about you of course, but my life is not like that. It is capricious and messy sometimes. It takes unexpected turns and I find myself in places where I wasn't expecting to find myself.
In every experience there is a lesson, an opportunity for growth. If you are willing to see the result of your choices and actions as mere feedback. Result not just meaning the output, but also your own emotions and reactions to it.
Live and learn, my dear, embrace your life. Nothing's gone wrong.